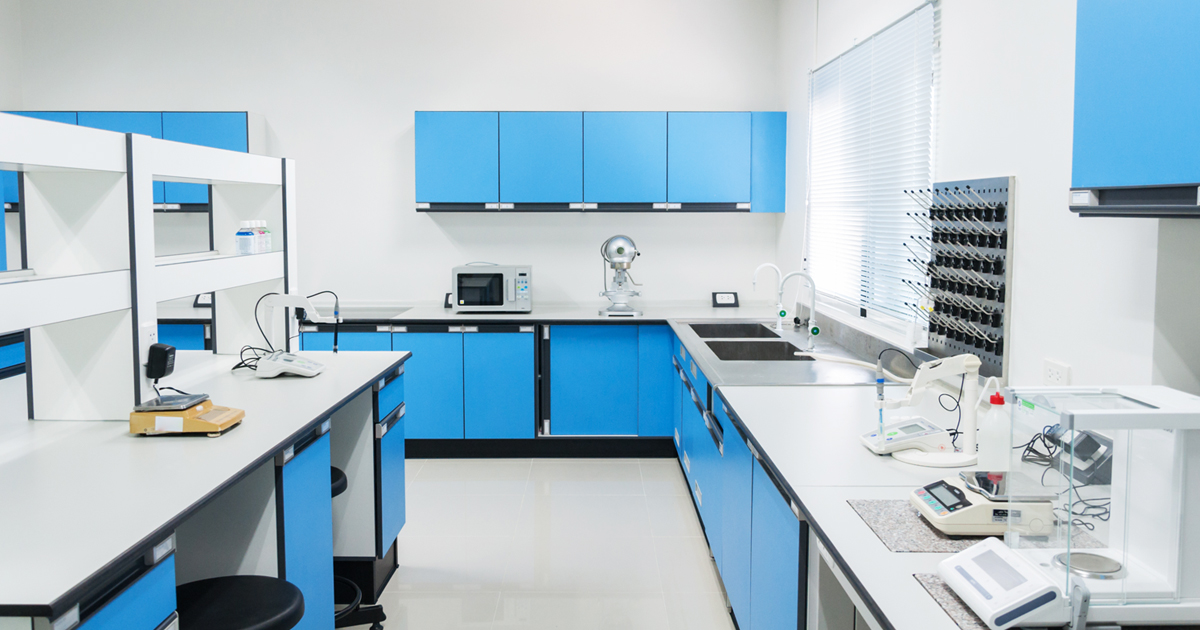 In current business and residential markets, health and safety is a key concern for company and property owners. Maintaining hygiene standards can be a laborious and tedious task and trying to stay fully compliant can be frustrating and worrisome.
Choosing a material that helps interiors to stay clean, up to health and safety standards and aesthetically pleasing is surely a need/want of premises owners everywhere. Well, that's where PVC wall cladding comes in.
What is hygiene cladding? 
Cladding is the application of one material over another to provide a skin or layer. Wall and ceiling cladding is a sheeted material applied to an existing surface to provide thermal resistance, security or design—or a combination of the three.
A popular material for internal cladding is PVC due to its low maintenance, cost-effectiveness and easy clean properties. As a result of these advantages, hygiene cladding has become a separate type of wall cladding that is used in environments where sanitation and cleanliness are important.
A popular and easier to install/maintain alternative than traditional tiling, PVC wall cladding is great for bathrooms and kitchens (domestic and industrial) because it can be easily wiped clean of spills and is water resistant. Stains and spills on tiles can leave long-lasting marks that require a lot of elbow grease to shift but hygiene cladding can just be wiped over.
PVC hygiene cladding is durable, impact resistant and long-lasting. For this reason, it can be used in 'tough' environments such as gyms and sports hall while still keeping its easy clean properties to stay hygienic. It's even resistant to chemicals which makes it suitable for hospital and laboratories.
The above uses are diverse but one of the perks of cladding is that PVC can be manufactured into lots of different designs and colours to meet specific aesthetic demands. As a result of these options, hygienic cladding can be adapted for different uses, sizes and types.
Types of hygienic cladding
Wall Cladding
Wall cladding is manufactured as a sheet material and can be applied to pre-established wall surfaces with cladding adhesives. Due to the large size of the sheet material, it can cover big areas quickly and doesn't require the fiddly application of individual tiles. Less time, less effort and the same great finish.
Despite the name, hygienic cladding isn't just good for hygienic benefits—it also looks great which is why more and more residential homeowners are opting for PVC cladding in their utility rooms, bathrooms and kitchens. PVC cladding works on any scale whether that's industrial or domestic.
At TBS, we understand the need for choice, cost-effectiveness and quality. That's why we offer two great ranges of hygiene cladding that boast all three of these perks.
AquaClad is suitable for showers, bathrooms and wet rooms. Best utilised in domestic settings, this cladding option is non-porous and mould free. There's no need to compromise on the design and colour match either because AquaClad comes in eight different finishes (below).
All styles of panel are tongue and groove for simple fitting during installation and are available in 2400mm x 1000mm x 10mm cladding sheets.
When it comes to PVC wall cladding that meets all the criteria, Plasiax™ cladding is above the rest. Its high impact strength, combined with resistance to chemical substances and mould/mildew/bacteria make it great for installation in hospitals, labs, clinics, prisons, hotels and food prep industries.
The technical specifications of this product work alongside its numerous colour finishes (available in pastel and gloss) to combine design with practicality and long-term sustainability.
Plasiax™ Pure is available in (white) 2440mm x 1220mm and 3050 x 1220mm with 2mm and 2.5mm thickness options available. Colours are available the same heights and widths but only come with a 2.5mm thickness option.
This cladding solution is designed to conform to current fire and hygiene regulations without sacrificing on design and colour for any environment.
Ceiling Cladding 
Floors and walls are given a lot of thought when it comes to materials but ceilings are a part of the room that needs just as much consideration. Don't sacrifice health and safety by neglecting a surface that encounters a lot of damage, especially in environments with airborne chemicals or rising heat.
To adapt cladding panels to the ceiling, joints and trims should be installed for added efficiency and a cleaner finish. Getting up to do work on the ceiling can be tiresome and cause downtime. Reduce effort and improve potential time before replacement with PVC panels that can withstand what you chuck at them and decrease initial installation time with a simple tongue and groove adhesion.
PVC Cladding vs Polypropylene 
PVC, or polyvinyl chloride, is a popular material in the construction industry for many of the reasons already covered. Polypropylene (PE) is another form of building plastic that often appears in the same builds as PVC application. Both are light in weight, do not corrode and are resistant to chemical and bacteriological buildup. PE is more flexible while PVC is thicker.
The two material feature most commonly against each other when it comes to plastic piping. PE, being more flexible and better at withstanding high temperatures, is often used for a network that passes hot liquids. But PVC is way more capable of withstanding the test of time while boasting low maintenance and great integrity alongside eco-friendly recyclable properties.
Polypropylene doesn't measure up when directly compared to PVC. For proven performance, cost-effectiveness and sustainability, PVC is usually cheaper and has a longer life.
How to fit hygienic wall cladding? 
When it comes to fitting hygienic wall cladding, TBS provides full product installation instructions with every panel we sell.
It's important that before you even purchase cladding that you take accurate measurements of the room and check that the surface is flat and secure enough to support fixings. The wall must not be damp or have any intrusions.
Once you've prepared yourself with all necessary cladding accessories and have all your trims sorted for fitting, it'll be time to go ahead. Need to cut your cladding to size? Measure TWICE, cut ONCE. Don't do it freehand either, pencils and tape measures aren't exactly hard to use.
Starting from the bottom and working upward is always advised with wall cladding. That way the panels can support one another as you build up rather than battling against gravity whilst the adhesive sets.
Need a more in-depth guide on installing hygienic cladding? TBS has got you covered.
Looking for Hygiene Cladding Suppliers? 
At TBS we're all about putting the customer first. That's why we are committed to offering our customer base the highest quality product and service at the most competitive price in the UK marketplace.
Keeping your business clean and compliant shouldn't have to be a taxing aspect of your business. By investing in hygiene cladding you can cut down the time and energy required to keep your premises regulation friendly.
Want to focus more on your business' goals than having to fret about mould? Need to save yourself time by fighting back against grime? Contact TBS today to discuss your hygiene cladding or PVC requirements on 01992 622 823 or email sales@tbspoly.com