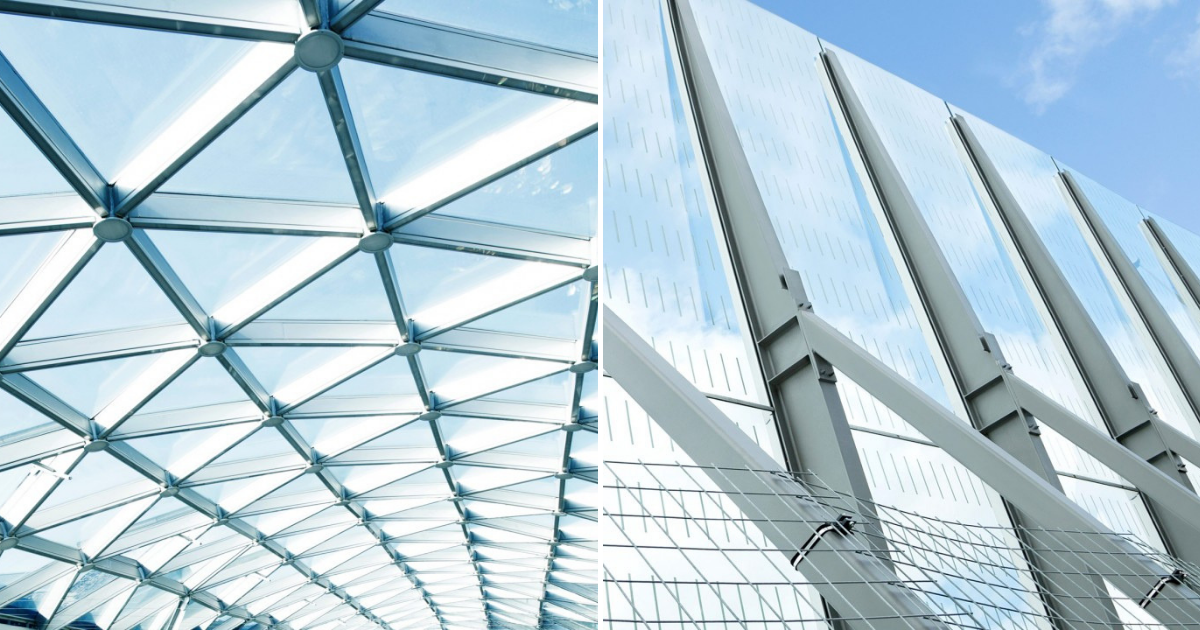 Over the past couple of decades, more glazing systems have been made available on the market that can dramatically cut energy consumption and pollution sources. Using a glazing system can reduce heat loss, prevent air leakage and improve temperature regulation – but these are just some of the benefits.
PVC or polycarbonate glazing systems have plenty of advantages over traditional glass alternatives and in this guide, we'll go over the things you need to know.
What is a glazing system? 
A glazing system can consist of insulative glazing sheets alone or it can be fitted onto a structural glazing system or a rafter and/or purlin supported rafter top system.
Glazing systems have traditionally been made from panes of glass but Plastic sheets are a competitive, if not better, solution due to their lower-cost installation, greatly enhanced safety properties and ability to keep all the great benefits of glass (such as smooth aesthetic and insulation). We also offer a Non-fragile system which is two sided , therefore a great and efficient system to add into an existing roof.
Structurally glazed systems create greater transparency as there are fewer visual interruptions due to the lack of metal on the exterior (and potentially the interior), creating a seamless, continuous open look.
Glazing systems provide a solution for many projects such as train stations, walkways, carports and conservatories.
Types of glazing systems 
Rafter Supported Glazing Systems
Rafter supported bars, or rafter top systems, are designed to be screwed into a pre-existing frame, and because they are attached to the frame itself rather than directly to another pane of glass or polycarbonate, their strength is significantly improved.
By building upon a strong foundation you can ensure the finished project has all the required security but with an aesthetic finish provided by the structural system.
Rafter supported glazing systems such as the Capex System are a great solution for conservatories. The diverse range of fittings allows for adaptation to unique layouts.
Strong, lightweight and really fast to fit – the rafter supported bars can support 10mm Twinwall, 16mm Triplewall and 25mm Multiwall polycarbonate sheeting and can be installed in almost any domestic or commercial requirement. Being able to install the sheeting in a recessed groove base fitting provides secure fitting against weather conditions.
Self Supporting Glazing Systems
If you have an existing frame that you can screw into, and need to connect multiple panes, self-supported glazing bars should be used as they don't require a frame or support underneath the glazing bar. They use their own structure to support the weight of the frame as well as the glazing.
As the bars connect to each other, rather than to the frame, this type of system can be used on almost any project, including for carports, lean-tos, and other rooms.
Whether for PVC sheeting or glass panes, the self-supporting glazing system can provide high levels of strength. The self-support roof bars are available in heavy-duty options for higher loading ability.
What to consider when buying glazing systems?
As mentioned, only one of the glazing systems above can be used without a frame. When buying a glazing system, you should consider what infrastructure you already have in place and what the uses of your project are.
For conservatories and carports that experience both sun and bad weather conditions, you'll need a system that won't deteriorate under UV rays or exposure. That's why choosing a well-manufactured glazing system such as the Capex System is the best solution for long-term resistance.
For a walkway, loading specifications are the most important as the glazing system will need to support its own weight and the weight of people crossing it. Also, wind uplift is an important factor, is your roof going to be open at the front and does it have enclosed sides? – all of these things need to be taken into account so that we can upgrade the roof to maximum strength.
For projects such as train stations and buildings, you'll need a clean, aesthetic finish combined with resistance against environmental impact.
How to install glazing systems 
How to install a self-supporting glazing system
The self-support roof system relies on its own construction which means unlike a rafter supported system, all of the support needed is from the bars themselves.
The following parts are all that is needed for your roof:
Main bars – no rafters needed as they span between your wall plate and eaves beam without the need for additional support
End Bar Adaptors – built with a purpose-made insert for the left and right ends of your roof to cloak them off neatly
Eavesbeam – this is the bar which sits along the gutter line at the front – it can be supported by posts for a lean-to or carport type roof or sit on top of window frames if it is a conservatory type installation
Wall plate – screws securely to your back wall and secures a neat and watertight finish
Easily fitted – a wall plate is fixed to the wall and an eavesbeam fixed at the front of the roof. Glazing bars (max unsupported projection of 4m) are then secured between the two and fixed at the right centres. The glazing sheet is placed between the bars and the PVC top cap clicked down into position.
When building a self-support roof for a canopy or conservatory you need to remember that the strength cannot rely upon wooden rafters. This means the distances between your glazing bars must be within the guidelines given for that roof system.
You also need to ensure that the widths of your polycarbonate do not exceed the maximum recommended widths for the thickness you are planning to use. This will make sure that your roof will cope with any wind or snow loadings given for that product.
How to install a rafter-supported glazing system
For this application, the glazing structure is fitted to a continuous rafter. Polycarbonate is then laid between the bars.
Available in up to 6.0m lengths, the Capex main bars are available in 40, 50, 60 or 70mm widths for roof structures. They are designed to sit on top of rafters and a host of fittings are available for just straight single pitch roofs or roofs with valleys and hips etc.
The use of end caps ensures that the structure is watertight but also gives a clean, aesthetic finish. If you're looking for a finish with a bit of flourish then our range of crests could be the look you want.
Installation is quick and simple with support from our sales team via phone or whatsapp and the manufacturer website.
Why Choose TBS Polycarbonates?
Here at TBS, we are all about putting the customer first. We provide great products at competitive prices so you can get the systems you need to get the job done.
Our glazing systems are designed to quality-controlled specifications for long-term return from a project and a well-finished look. With so many options to choose from, our structural systems and PVC sheeting options can be adapted to suit any project.
Need more information? Contact us today on 01992 622 823 or email sales@tbspoly.com
This article was written by William Gresswell
William started at TBS in 2008 after leaving upper sixth form working in fabrication and cutting, he started on the trade counter and has worked through to business development. William actually worked part-time at TBS during holidays from a young age until he officially started full-time. William has completed a 2-year advanced business management course, a course with the chartered institute of management accountants (CIMA) and holds City and Guild certificates in basic electrics, plumbing, brickwork and carpentry.