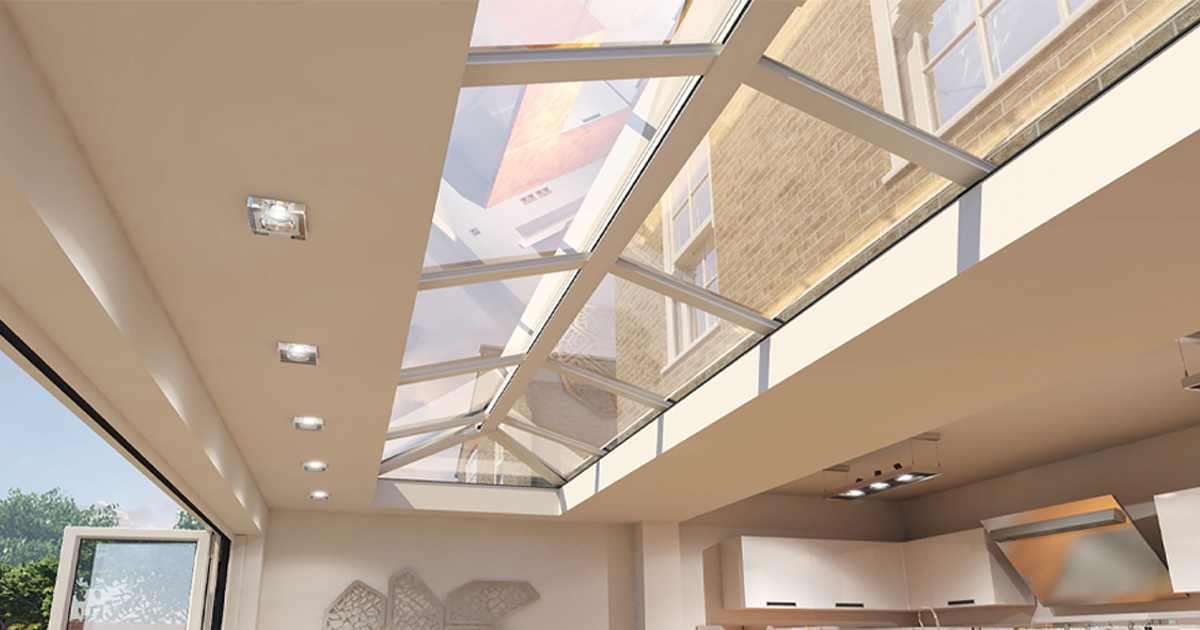 So many homeowners are always looking for new features to impress and breathe life back into homes. The popularity of the skylight and roof lantern is increasing consistently as many property owners strive for a more natural lighting feel and away from the gloom of a low-lit home that causes them to waste energy on electricity.
This is a complete guide to the Skypod, an innovative and aesthetic solution to creating warm, natural pools of light in any flat-roofed premises.
What are Skypods?
If you've ever wanted to create a modern design feature alongside the promise of a room flooded with natural light, then you've probably been thinking about the capabilities of a roof lantern or skylight system.
This structure, most commonly referred to as a roof lantern, is a feature created from glass panes and struts. At TBS we stock the Skypod, an innovative installation that when applied to a project has the potential to inspire and save the end-user energy.
Skypods are suited for flat roof installation and are the perfect way to brighten up any interior that an opaque roof was previously hiding. Imagine bringing a room to life with natural light and providing that 'WOW' factor so many customers are desperate for in their homes with fairly minimal effort and disruption.
Skypods and skylights are quickly becoming the must-have feature in many homes, especially for more minimalist and smaller properties that need the feeling of light to widen up spaces and inspire warmth.
Skypods offer a large proportion of light transmission to glazing bar as the bars are slim and neat which provides unhindered, maximum light penetration through the Skypod.
How are Skypods different from skylights?
The Skypod is a refreshing twist on an otherwise expensive and sometimes unappealing design feature. In the past, most skylights have been made from aluminium. Not only are these expensive, but the 'industrial' design isn't to everyone's taste.
The Skypod offers outstanding looks and costs less. Also with the stylish incorporation of PVC-U windows and doors in more homes than ever before, the Skypod is the perfect complimenting feature to work alongside them due to its own PVC-U design.
Skypods are also available in a variety of frame and glass colours, with choices such as white, golden oak and moondust grey giving more possibilities to blend the Skypod with the environment around it or even set it apart as a distinctive piece.
The glass is available in clear, blue, neutral, bronze and aqua—just another way to give a unique look to the interior.
Not only are Skypods a more cost-effective option initially but they can save you money in the long run. Skypods can achieve exceptional U-values as low as 1.0. This helps minimise heat loss, meaning that you can save money on your heating bills.
As for the concern about replacements and upkeep, Skypods are guaranteed for ten years, so you can be sure that you're buying a robust, well-designed, precision-made product that's built to last.
At TBS we also offer dome roof lights which are designed to make optimum use of natural daylight in a similar way to the Skypod. Dome roof lights provide up to three times more daylight through a flat roof than a similar-sized window in a vertical plane.
Very similar to the Skypod option, our dome roof lights come with a wide range of ventilation options and a choice of single, double and triple glazing. We currently have over 40 sizes of our dome roof lights in stock, ready to be delivered straight to your construction site or yard.
Skypod Roof Lantern Installation
Skypods really are the premium installation for any home with clean, modern design focus at its core. TBS stock Skypod in a wide range of sizes, so you can create a skylight that complements the individuality of your home.
Our new dedicated frame system means that rafter bars line-up perfectly, whatever the size.
It's also suitable for a variety of projects such as flat-roofed extensions, orangeries, new builds, kitchen-diners and garage conversions.
Our short lead times of seven to ten working days will mean that you can have your Skypods straight to where you need them. Not to mention that the design of the Skypod makes installation fast and accurate.
Skypods are pre-assembled at the factory to ensure an exact fit and a complete system making them easy and quick to fit once they get to site. You just have to make sure the hole is prepped and that you've got the right silicone glazing sealant for that high-bond strength.
Are you considering lighting up your next project with a Skypod or dome light? Contact us today on 01992 622 823 or email sales@tbspoly.com
This article was written by William Gresswell
William started at TBS in 2008 after leaving upper sixth form working in fabrication and cutting, he started on the trade counter and has worked through to business development. William actually worked part-time at TBS during holidays from a young age until he officially started full-time. William has completed a 2-year advanced business management course, a course with the chartered institute of management accountants (CIMA) and holds City and Guild certificates in basic electrics, plumbing, brickwork and carpentry.